Utica Bread Ciabatta is made with a very high percentage of water, a long fermentation and multiple folds, yielding a large and lofty loaf. Our Ciabatta is delicious and citing with a crunchy crust and a light airy crumb. We don't skimp on the California Olive Oil in this dough, leaving a fantastic floral, grassy background note of olives behind the deep wheat flavors of this authentic Ciabatta bread.
Ciabatta is a relatively modern bread, developed only in the late part of the 20th century. The idea of ciabatta was born out of a need to respond to the popularity of the Baguette. In just a few short decades, the popularity of Ciabatta has infinitely grown, as the demand for pressed sandwiches, or Panini has catapulted the awareness of this simply delicious bread.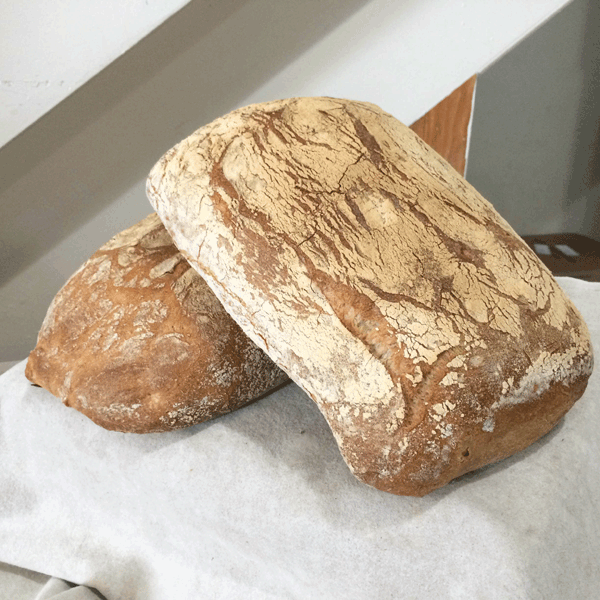 Wheat Flour, Olive Oil, Water, Yeast, Salt
Rustic Ciabatta Loaf, Ciabatta Log, Ciabatta Sandwich Roll
Chile Cheddar Ciabatta, Chocolate Cherry Ciabatta
A Simple usage for Ciabatta
The airiness of this bread makes it perfect for the pressed sandwich style of Panini.
This bread is born of good olive oil, and thus it is a wonderful bread to drag through your favorite finishing oil. Serve a loaf with some good aged cheese and a dish of olives….
We find it to be the best bread in our line for that quintessential late summer Caprese Sandwich of Basil Pesto, Farm Tomato, Mozzarella…
Ciabatta makes a fantastic crouton ~ toasted and tossed with some dried herbs and yup, you guessed it ~ more Olive Oil.