Utica Bread Sesame Batard is our homage to Italian Bread. A large, airy loaf due to the addition of our softer bread flour. The addition of sesame inside and out provides two wonderful layers of flavor.
This bread begs to be eaten within 48 hours of baking when its flavor is rich with sesame and the loaf holds much moisture in its crumb.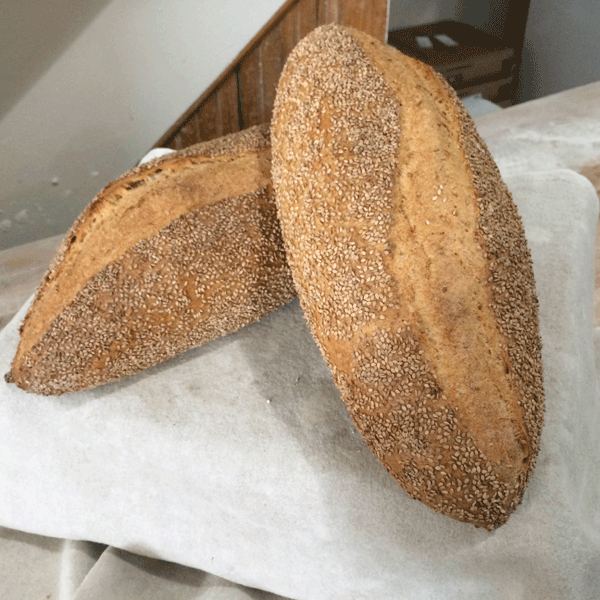 Unbleached Wheat Flour, Organic Wheat Flour, Malted Barley Flour, Sesame Seed, Water, Salt, Yeast
A Simple usage for Sesame Italian
Our Head Baker Steve, loves his Sesame Italian bread toasted, with peanut butter.
We think this is the quintessential bread for serving with Red Sauce. The Crumb is moist, but not too open and airy to fall apart under the weight of a good Sunday Red Sauce or Bolognaise.
More ideas for Sesame Italian
Sesame Italian is absolutely made for garlic bread. Mix up a garlic butter with lots of good butter, fresh garlic and herbs, salt and pepper… Spread it liberally over the loaf and heat in the oven. Magnifico! If you don't want to go to that trouble – stop into Utica Bread and pick up one of our premade Garlic Breads!
This is also a great Grilled sandwich bread – Grilled Cheese, Tuna Melts and Muffuletta all shine on Utica Bread Sesame!