Utica Bread Potato Rosemary starts very simply by slow roasting Yukon gold potatoes to build and intensify their flavors. The potato is then added right to the dough while it's mixing. We then add a touch of fresh rosemary to compliment the potato. The dough is rounded out with whole wheat flour to accentuate the forward flavors of the rosemary.
In the past, the addition of potato to dough was one of necessity. When expensive grains where hard to obtain and in short supply, adding things like potato stretch your dough and keep your family fed.
This is a wonderful bread for the supper table. The massive boule is shaped in the fendu (French for split) style; it's a bit of a talking piece. The rolls make a great hamburger bun. A crumb that is able to stand up to the juiciest of burgers and a flavor not lost in the crowd.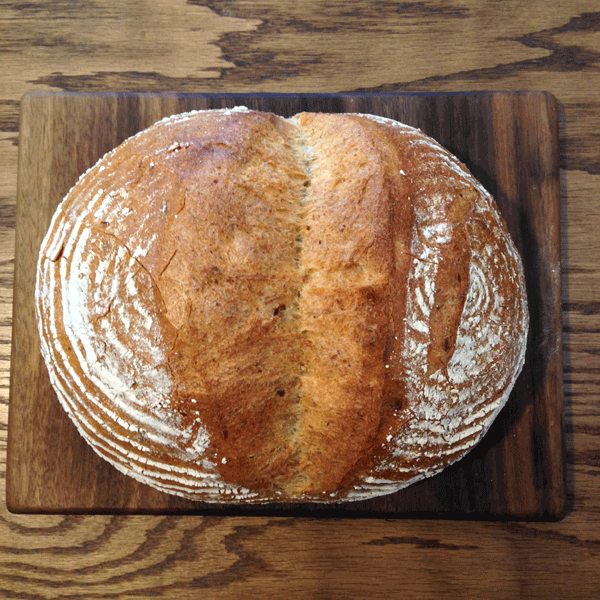 Wheat flour, Whole Wheat Flour, Yeast, Salt, Water, Potato, Rosemary
Boule, Potato Sandwich Roll
A Simple usage for Potato Rosemary
We cannot think of a better bread to serve with your roast chicken dinner! Slather with some rich, cultured butter and let the conversation ensue! It's also a very interesting bread to serve with your eggs in the morning, bringing that interesting, savory flare to your breakfast table.
More ideas for Potato Rosemary
Wrap this bread in foil and heat up in the warm coals of a campfire. Bet you didn't think the flavor of this bread could get any more pronounced…
Use this as the crunchy crouton in your French Onion Soup, covered with bubbly caramelized Swiss cheese. Now that is complex flavor!!!