Utica Bread Raisin Walnut is one of our most popular breads. Raisin walnut is literally LOADED with dark raisins and chopped walnuts. The addition of rye and whole wheat flours lend an earthiness to this bread, helping to balance the sweetness of the raisins.
Raisin Walnut is a most, rich bread, baked with a more delicate crust. The crumb is on the heartier side, due in part to the addition of whole grain flours and the high quantity of raisins and walnuts, however, this is not a dense bread by any means.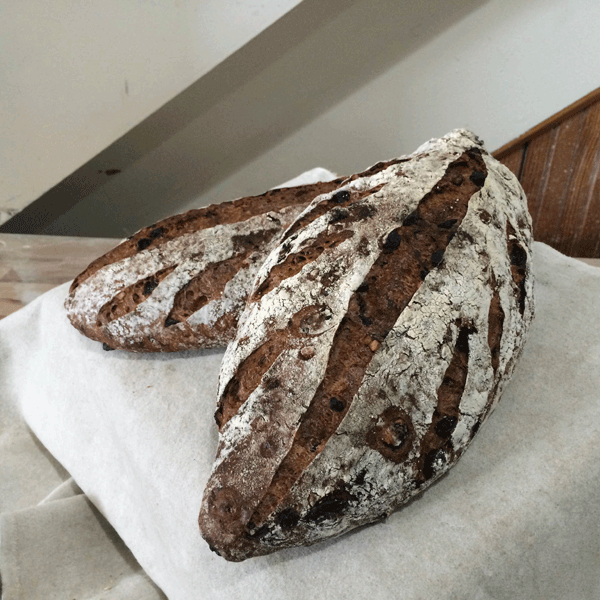 Bread flour, Whole Wheat Flour, Dark Rye Flour, Raisins, Walnuts, Water, Salt, Yeast
Sliced Pan Loaf, Batard, Dinner Roll
A Simple usage for Raisin Walnut
Possibly the best bread for toasting in our product line: Smeared with butter and honey, or almond butter and topped with sliced apples.
This is also a great sandwich bread, and has become the bookends for many a sweet and savory sandwich at Utica Bread!
More ideas for Raisin Walnut
Dice leftover Raisin Walnut and dry to use for croutons on a spinach salad with chevre. Or slice very thinly to turn into crispy crostini for use on a cheese platter.
Raisin Walnut also makes a sweet and savory and super delicious Grilled Cheese when paired with a very sharp cheddar.