Utica Bread Whole Wheat Levain is made from whole wheat flour and wheat flour. The use of a long autolyze and bulk fermentation help to develop the flavors of the wheat while keeping it soft and a proper volume. The addition of 30 % white flour helps add a level of sweetness to balance the tannins of the red wheat.
One interesting point of this dough is our use of the whole grain. Most commercially produced breads today use other additives to stabilize and ease the use of this sometimes difficult to work with whole grain.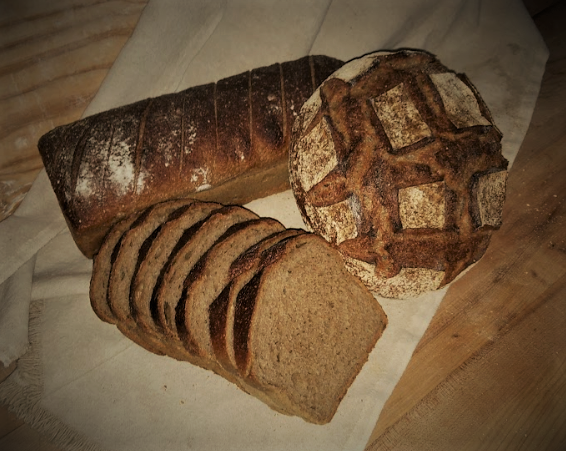 Whole Wheat Flour, Wheat Flour, Yeast, Salt,
A Simple usage for whole wheat levain
One of the most memorable, textural sandwiches in American culinary history, Whole Wheat Levain makes an exceptional PR&J sandwich!
It is an amazing base for canapés and hors d'oeuvres, lightly toasted and topped with any variety of tasty accompaniments. Use it to assemble small sandwiches of salmon, egg or cucumber for your afternoon tea. 
More ideas for whole wheat levain
Try this bread in an old fashioned bread pudding, with warm spices and cranberries. Soaked with milk and added to your favorite meatloaf. You won't believe how much flavor this adds to your family favorite!!!
Well, he is not much of a baker, but Tim, our owner really loves this bread – toasted, with Kriemheld butter and raw honey.